Enjoy Clifden & the surrounding Connemara area
Here are some interesting things about Clifden as well as some things to see & do in the surrounding Connemara area.
Nestled aside the Atlantic Ocean and the Wild Atlantic Way, Clifden is a coastal town located in County Galway, Ireland. Being Connemara's largest town, it is often referred to as "the Capital of Connemara". It is located on the Owenglen River where it flows into Clifden Bay. The town is linked to Galway city by the N59 and is a popular tourist destination for those touring Connemara.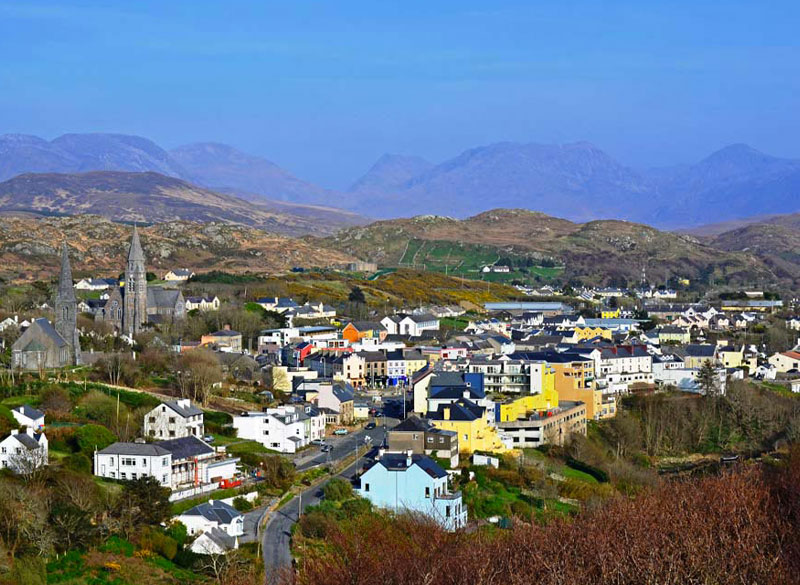 Clifden Town
Although small, today with a population of approximately 1500, Clifden packs a punch and is to many major historical events. The town was founded at the start of the 19th century by John D'Arcy who lived in Clifden Castle (which is now a ruin that can be seen from the Sky Road west of Clifden).The engineer, Alexander Nimmo oversaw the construction of Clifden Quay (harbour,) which greatly facilitated the growth of Clifden. In addition to the Marconi Wireless Station and Alcock and Brown landing, Daniel O'Connell held a "Monster Meeting," in 1843, reportedly attended by 100,000 people. Various skirmishes between IRA members and British soldiers from Nov 1921 – March 1922, during the War of Independence, eventually leading to burning of Clifden on St Patrick's Day 1922. It is the birthplace of John Patrick Riley (Born 1812-1850), Saint Patrick battalion's commander, who fought for Mexico in the Mexican-American War in the 19th century.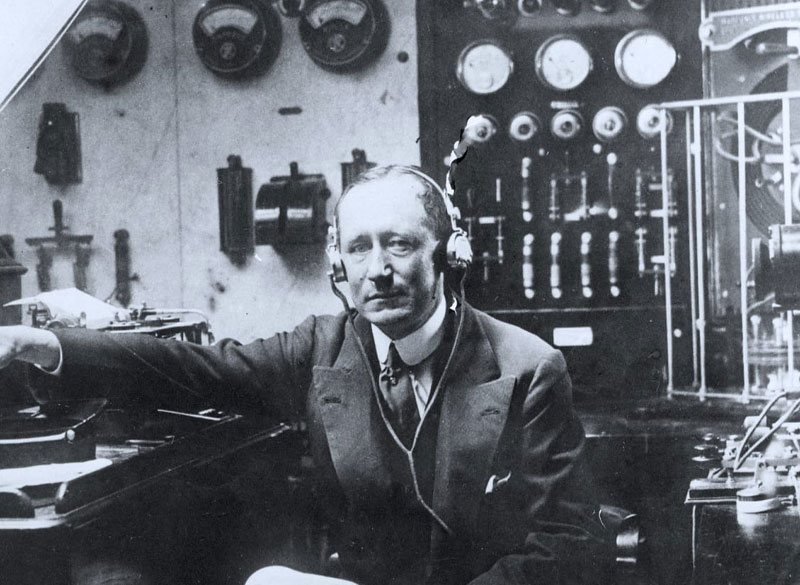 Marconi & the Wireless
Clifden gained worldwide prominence in the early 1900s when Guglielmo Marconi built his first high power transatlantic long wave wireless telegraphy station approximately four miles south of Clifden to connect with its sister station in Glace Bay, Nova Scotia. The first point-to-point fixed wireless service connecting Europe with North America which opened for public service with the transmission of 10,000 words on 17 October 1907 and ceased operation on 25 July 1922 after suffering serious damage in the Irish Civil War. Transatlantic wireless service formerly provided by the Clifden station was transferred to the more modern Marconi wireless station near Waunfawr, Wales. At peak times, over 400 people had been employed by the Clifden wireless station, but none more famous than Jack Phillips, the heroic chief Radio Operator on the Titanic, who heroically died while attempting to obtain assistance for the doomed ship.
Alcock & Brown
A short distance from the former Marconi Wireless Center is the approximate landing spot of the first non-stop transatlantic flight of Alcock & Brown. While most people are aware of Charles Lindbergh's transatlantic flight from New York to Paris, many are unaware of John Alcock and Arthur Whitten Brown, the pilot and navigator duo, respectively who departed Lester's Field at St. Johns, Newfoundland on the afternoon of 14 June, 1919. The difficult flight and conditions included equipment failure as well as extreme fog, snow, sleet and ice. They flew through the night, arriving over Clifden before descending and landing (and sinking) into the flat, although boggy field in Derrigimlagh, approximately 4km from Clifden at 8:40AM on 15 June, some 16 hours and 28 minutes after take-off. A truly remarkable feat, considering the modified Vickers Vimy they flew was a wooden and canvas bi-plane with an open cockpit. As the first successful flight, they collected the cash prize of £10,000, offered by the Daily Mail, which was awarded to them, by then Secretary of War, Winston Churchill. Within a week, at a reception in Windsor Castle, both men were knighted by King George V.
Arthur Whitten Brown
"I believe that ever since man, but recently conscious of his own existence, saw the birds, he has desired to emulate them...."
Book your stay with us......